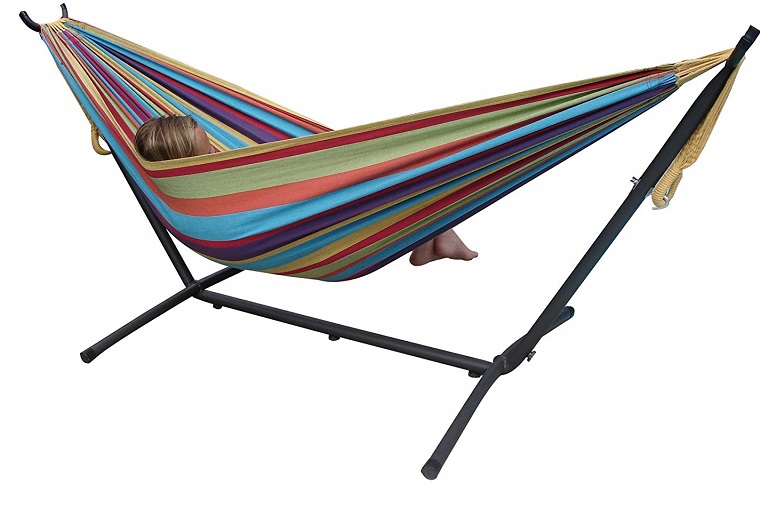 Picture this, the sun is out and you want to chill out and relax in style.  What better way to relax than in a Garden Hammock?
Hammocks are not just for gardens! You can take your hammock on camping trips and away with the caravan too.  Amazing for family holidays, romantic breaks, festivals, camping trips and much more!
Best Hammocks
With so many hammocks on the market how do you find the best ones?
We've been reviewing hammocks for every budget and can recommend the best hammocks on the market right now!
Vivere Double Cotton Hammock with Space-Saving Steel Stand
We absolutely love this garden hammock both for it's style and practicality.  And from the amazing customer reviews you can see that it's not just me who is a little bit in love with this hammock.  The only issue I would have is which colour to choose?  Colourways called Desert Moon, Oasis, Paradise and Tropical to name just a few of the lovely options.
Now down to the nitty gritty:-
Hammock is 100-percent cotton, tightly woven and richly coloured

Space-saving 8 foot stand is constructed of heavy duty steel and assembles in minutes without any tools

Carrying case is included

Hammock bed is 83 x 59 inches, with a total length of 120 inches; accommodates two adults, 450 pound capacity
Just some of the customer reviews describe the hammocks as amazing, easy to set up, beyond comfy and far too relaxing.  A few people have said they nearly fell asleep when trying the hammock out.  Always a good sign.  It seems very strong and sturdy so that even the kids could have a mess around on it too according to one reviewer.
Prices for this hammock differ slightly according to the colours you choose but overall they are at the higher end of the market in terms of both price and quality.  Although a considered purchase they are most definitely built to last.
With so many 5 star reviews I don't think you could go wrong with this product and it would be a purchase you definitely wouldn't regret!

Redstone Hammock with Metal Stand – Huge 6ft 10in Hammock Length
This is a very large and comfortable hammock and definitely up there on a list of best hammocks.
Reviews have described the Redstone Hammock as  colourful, comfortable and well made.  People also love the fact that it is sturdy so you don't feel it will tip over if you move. Another reviewer commented on the style of the hammock saying "it looks great in the garden and I would definitely recommend purchasing this item. I liked it so much I am about to purchase another one". The only problem may be arguing with your other half about whose turn it is to lay in the Hammock. Maybe you'd better buy two just in case!
The price is very good for this particular hammock and overall it's great value for money.  You'll be pleased to hear that delivery is very fast too you you won't have to wait too long for this beauty to arrive.   Other brilliant points about this item is the east of construction and it's also super easy to take down, pack away or take camping.
One review even said that "this may be one of the best things that I've ever purchased".  High praise indeed!
Good quality, very secure, extremely comfortable.
Some key facts about this Hammock are:-
Hammock size: 210 x 80cm – 6ft 10in. Steel stand size: 290 x 87 x 103cm

Easy assembly and 3 height options. Steel hooks securely attach hammock to stand

Hammock made from natural woven cotton – soft and breathable

Incorporated wooden stabilizer bars to prevent tipping

Please note this hammock is only suitable for people under 100kg

VonHaus Garden Hammock For 2-100% Cotton Outdoor Garden Double Hammock with Travel Bag
If you don't need a stand then you might opt for this budget friendly option.  You could tie to hammock to trees instead!  A gorgeous hammock with a lovely finish in nautical blue and white stripes and made with 100% cotton.
Relax in style in your garden or anywhere you choose. It's a double hammock so it's perfect for 2.  Spend some quality time watching the world go by from the comfort of your hammock and switch off from the hustle and bustle of daily life – if only for a short while!
As always here is the important information for you to see at a glance:-
Perfect for two, relax in the sun all day long with this comfortable and stylish double hammock

Made from 100% cotton in a nautical-inspired white and blue stripy colourways, the natural woven fabric is soft and breathable

Includes a matching carry bag for easy transport when you're camping or travelling

Comes with full instructions on how to secure and position the hammock correctly. The hammock measures L200 X W152.5cm with a weight capacity of 120kg
It's great that a manufacturers 2 Year Warranty is included as well.