We review the latest Britannia Range Cookers
Here at home and garden vibes we love a good old range cooker, there's nothing more stylish in a new kitchen than a gleaming new range.  100cm is a great size too, big enough to give the wow factor and to work with yet small enough to fit in most kitchen designs without issue.
Recently there have been a fantastic selection of colour schemes from Britannia too from traditional cream and black to more earthy shades like red and green.  You could also go for a commercial look with a stainless steel option.
Click to check the latest prices
What's special about the Britannia 100cm Range Cookers?
Well for a start there are the soft close storage drawers, the heavy duty shelves and the telescopic runners – all designed for a great cooking experience not just to look good!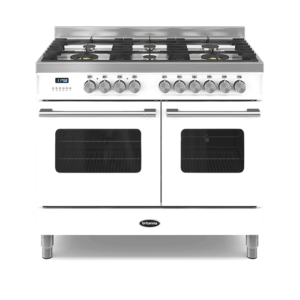 The Delphi 100cm twin range cooker is a premium model and in our opinion one of the best Britannia 100cm Range Cookers out there.
For quality and style this is the one to go for, and it's made to last too.  Colour ranges for this one are stainless steel, gloss black, gloss red and gloss cream.
With gloss featuring highly in kitchen designs over the last few years this will set off the look perfectly.
Personally I love gloss in a kitchen from cupboard doors to work tops. You can wipe them down and they look super stylish.
But that's not all!
The AMAZING thing about the company Britannia is that they can create a 100cm range cooker to your exact colour specification meaning it can match any existing colour scheme or even one you have dreamed up.
Think yellows, blues and many more!  You can even match it to the colour of your favourite dress or any inspiration around you.
The top of your range cooker is really down to personal choice whether you prefer a gas hotplate with six brass burners or an induction hob with 5 zones.  Personally I'd go for the gas option which gives great cooking results.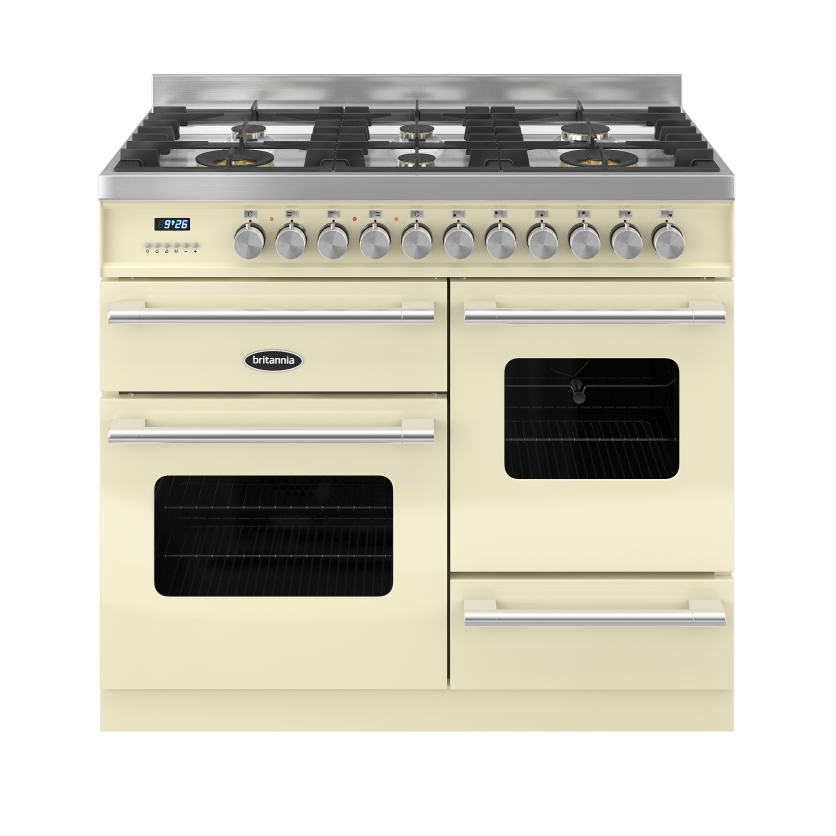 The Delphi 100cm XG is a gorgeous range cooker with similar features to the twin range but a different look to it that I love.
It has an off centre look with a smaller top oven on the right hand side.
Again it comes with professional features and heavy duty shelves as well as the fantastic colour options.
The other option to consider in the 100cm range cookers is the Q Line Model. This not only looks sleek and stylish but has great capabilities too including an A-rated range cooker making it a real joy to cook with.
Give your friends Range Cooker Envy and check out the full range of Britannia 100cm range cookers here!
References and Further Reading
Read More about the Delphi 100cm Twin Range Cooker >>
Read More about the 100cm Q Line Model >>
Find out more about Range Cookers and Agas on Wikipedia